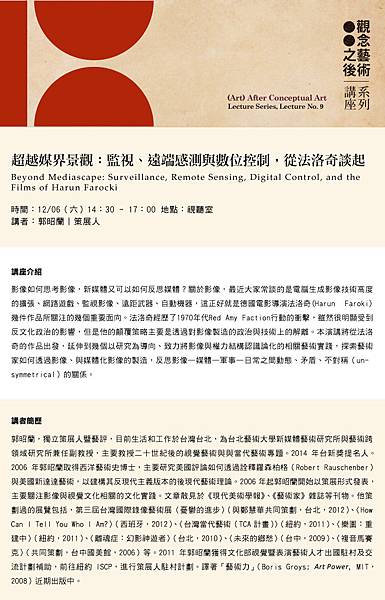 活動連結:http://www.tfam.museum/Event/Event_page.aspx?ddlLang=zh-tw&id=2209


演講資料
題目:超越媒界景觀:監視、遠端感測與數位控制,從法洛奇談起
Beyond Mediascape: Surveillance, Remote Sensing, Digital Control and the Films of Farocki
講者:郭昭蘭(北藝大新媒系與藝跨所兼任副教授)
2014年12月6日14:30—17:00
影像如何思考影像,新媒體又可以如何反思媒體?關於影像,最近大家常談的是電腦生成影像技術高度的擴張、網路遊戲、監視影像、遠距武器、自動機器,這正好就是德國電影導演法洛奇(Harun Faroki)作品所關注的重要面向。法洛奇經歷了1970年代Red Army Faction行動的衝擊,雖然很明顯受到反文化政治的影響,但是他的顛覆策略主要是透過對影像製造的政治與技術上的解離。本演講將從Farocki的作品出發,延伸到Gerrard、Magid、Paglen等以研究為導向、致力將影像與權力結構認識論化的相關藝術實踐,探索藝術家如何透過影像與媒體化影像的製造,反思影像—媒體—軍事—日常之間動態、矛盾、不對稱(unsymmetrical)的關係。
參考書目
l Brianne Cohen: Contested Collectivities-Europe Reimagined by Contemporary Artists Reimaged by Contemporary Artist, Ph.D. dissertation, the Kenneth P. Dietrich School of Arts and Science , University of Pittsuburg, 2012
l Antje Ehmann and Ralf Beil ed.,: Serious Games: War-Media-Art, 2011, Hatje Cantz Verlag.
l Thomas Elaesser ed,.: Harun Farocki, Working on the Sight-Line, Amsterdam, Amsterdam University Press, 2004.
l John Gerrard, Linda Norden and Jasper Sharp: John Gerrard: Animated Scene; [the 53rd International Art Exhibtion, La Biennial Di Venezia, June 7-September 30, 2009, Isola Di Certosa, Venice].Edited by Jasper Sharp. Wein: Schlebrugge, 2009.
l Boris Groys: Art Power, New York, MIT, 2007
l Thomas Y Levin, Ursula Frohne, and Peter Weibel. ed.: Ctrl[Space]: Rhetorics of Surveillance from Bentham to Big Brother, Karlsruhe, Germany: ZKM Center for Art and Media, 2002.
l Sarah Loyer: Surveillance Surveyed-The Effects of Remote Sensing Technologies On Perception Through The Films Of Harun Farocki, thesis for Master of Public Art Studies, The USC Roski School of Fine Arts, University of Southern University, 2012.
l Jill Magid 網站 http://www.jillmagid.net/
l Trevor Paglen 網站 http://www.paglen.com/
l Michele Theriault .ed: Harun Farocki-One Image Doesn't Take The Place Of The Previous One,
l Paul Virilio: War and Cinema-The Logistics of Perception, New York, Verso. 1989.
圖錄
1

Historic Archival Stock Footage Deportation Of Jews - Death Train To Auschwitz

1943

2

Videograms of a Revolution

1993

3

Harun Farocki

still from Nicht Löschbares Feuer [Inextinguishable Fire], 1969

video (black and white, sound)

4

Harun Farocki

Eye/Machine I

2001

5

Harun Farocki

Eye/Machine II

2002

6

Harun Farocki

still from Immersion, 2009

2-channel video installation, color

sound 20 minutes

7

Serious Games I

Watson is down,

2010

2 channel

Color,Sound, 8 min

8

Serious games II

Three Dead

2010

Single channel

Color, Sound, 8 min

9

Serious Games III

Immersion

2009

2 channel

Color, Sound, 20 min

10

John Gerrard

Watchful Portrait

2004

2 real-time 3D portraits

Custom software

Game engine

2display devices

Shelf 2PCs

11

John Gerrard

Dust Storm (Dalhart, Texas)

2007

Simulation

courtesy the artistand Thomas Dane Gallery

12

John Gerrard

Animated Scene (Oil Field)

2007 simulation

courtesy the artistand Thomas Dane Gallery

13

John Gerrard

Grow Finish Unit (near Elkhart, Kansas)

2008

simulation;

courtesy the artist and Thomas Dane Gallery

14

John Gerrard

Oil Stick Work (Angelo Martinez/Richfield, Kansas)

2008

courtesy the artist and Thomas Dane Gallery

15

John Gerrard

Exercise: Djibouti

2012

Simulation

courtesy the artist and Thomas Dane Gallery

16

John Gerrard

Cuban School (Sancti Spiritu)

2011

Simulation

Dimensions variable

edition 1/4 + 2 A/P

17

John Gerrard

Infinite Freedom Exercise

5 - 17 July 2011
Brazennose Street

Manchester city centre(Manchester International Festival)

18

John Gerrard

One Thousand Year Dawn (Marcel)

2005

Realtime 3D, 117 x 68 x 53 cm

variable

19

John Gerrard
Solar Reserve

(Tonopah, Nevada) 2014

Simulation

Dimensions variable

20

John Gerrard

Live Fire Exercise (Djibouti) 2011

2011
Simulation
Dimensions variable
edition 1/4 + 2 A/P

21

Jill Magid, Failed States

My 1993 Mercedes Station Wagon, Armored to B4

Level, Parked at the Texas State Capitol, 2012, offsite installation; Photograph © 2012

CT

22

Jill Magid

Failed States

2012

view of installation, Honor Fraser, Los

Angeles; courtesy of Honor Fraser, Los Angeles

23

Trevor Palgen

Torture Taxi: On the Trail of the CIA's Rendition Flights

2006

24

Trevor Palgen

I Could Tell You But Then You Would Have to Be Destroyed By Me: Emblems from the Pentagon's Black World

2010

25

Trevor Paglen

Code Names (installation view)
Ongoing list of classified Military and Intelligence programs
2001 to present
Dimensions variable

26

Trevor Paglen

Symbology

NOYFB
Patch
4 1/2 x 4 1/4 inches
2006

27

Trevor Paglen

Symbology

Gustatus Similus Pullus
Patch
4 1/2 x 4 1/2 inches
2006

28

Trevor Paglen

Symbology

Five Classified Aircraft
Five fabric patches, framed
15 1/4 x 32 3/4 x 2 1/4 inches
2007

29

Trevor Paglen

Symbology

Volume III
Twenty fabric patches
12 x 120 inches
2009

30

Trevor Palgen

Symbology

Volume I
Twenty fabric patches
12 x 120 inches
2006

31

Trevor Paglen

Symbology

Five Classified Squadrons
Five fabric patches, framed
15 1/4 x 32 3/4 x 2 1/4 inches
2007

32

Trevor Paglen

COSMOS 654 through an Ice-Encrusted Camera, 2009, cprint,

121.9 x 152.4 cm; courtesy Metro Pictures, New York; Altman Siegel, San Francisco; Galerie Thomas Zander, Cologne

33

Trevor Palgen

The Other Night Sky

PAN (Unknown; USA-207)
C-Print
60 x 48 inches
2010-11

34

Trevor Palgen

The Other Night Sky

STSS-1 and Two Unidentified Spacecraft over Carson City (Space Tracking and Surveillance System; USA 205)
C-Print
48 x 48 inches
2010

35

Trevor Palgen

The Other Night Sky

KEYHOLE IMPROVED CRYSTAL from Glacier Point
(Optical Reconnaissance Satellite; USA 224)
C-Print
30 x 43 inches
2011

36

Trevor Palgen

The Other Night Sky

KEYHOLE 12-3/IMPROVED CRYSTAL Optical Reconnaissance Satellite Near Scorpio (USA 129)
C-Print
48 x 60 inches
2007

37

Trevor Palgen

The Other Night Sky

Dead Military Satellite (DMSP 5D-F11) Near the Disk of the Moon
C-Print
24 x 30 inches
2010

38

Trevor Paglen

Workers Gold Coast Terminal; Las Vegas, NV; Distance –1

mile; 8:58 am, 2007; c-print, 76.2 x 91.4 cm; courtesy Metro Pictures, New York;

Altman Siegel, San Francisco; Galerie Thomas Zander, Cologne

39

Trevor Paglen

Large Hangars and Fuel Storage, 2005, c-print, 76.2 x 91.4

cm; courtesy Metro Pictures, New York; Altman Siegel, San Francisco; Galerie

Thomas Zander, Cologne

40

Trevor Paglen

Limit Telephotography

N5177C at Gold Coast Terminal, Las Vegas, NV, Distance ~ 1 mile
C-Print
40 x 50 inches
2007

41

Trevor Paglen

Limit Telephotography

Detachment 3, Air Force Flight Test Center #2, Groom Lake, NV, Distance ~26 Miles
C-Print
50 x 40 inches
2008

42

Trevor Paglen

Limit Telephotography

Open Hangar, Cactus Flats, NV, Distance ~ 18 miles, 10:04 a.m
C-Print
30 x 36 inches
2007

43

Trevor Paglen

Limit Telephotography

White Sands Missile Range, Alamogordo, New Mexico, Distance ~ 35 miles
C-Print
48 x 60 inches
2012

44

Trevor Paglen

Limit Telephotography

National Reconnaissance Office Ground Station (ADF-SW) Jornada del Muerto, New Mexico
C-Print
38 x 48.6 inches
2012